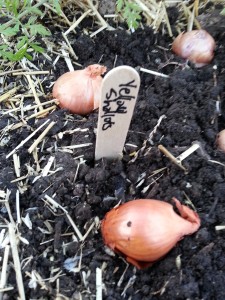 The Fall is an excellent time to sow shallots. You should plant them when the weather is cooler. While I can find garlic locally to plant, I usually only find the shallot bulbs in the Spring. This year I ordered some. See my post about purchasing shallots online.  Since shallots like to get a head start in the Fall like garlic, I planted the immature shallot bulbs between mid October through early November. I am looking for the temperature to be around 50 degrees during the day which is later October around here.   It will develop a good strong root system before winter and start growing above ground in Spring.
Here are my planting steps:
1) Keep your shallot bulbs in a cool spot until you are ready to plant.
2) Loosen the soil – I use my Cobra Head garden tool for this task.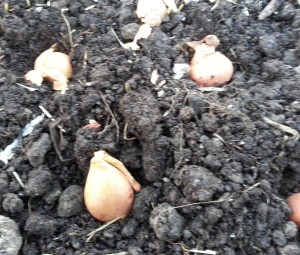 3)  Plant the pointy side up and the root side down. I plant shallots like I do garlic which is 3″ deep and 5 to 6 inches apart. You need to give shallots some room to grow because for every one bulb that you plant you will get a group or cluster of bulbs that grow together but are easy to separate. Shallots typically grow like walking onions.
4) Cover the top of each shallot bulb with soil.
5) This year I sprinkled some balanced organic plant food that will slowly breakdown over the winter.
6) I topped it off with 2 inches of straw.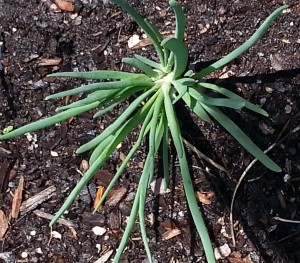 7)  Don't forget to label the row.  I use popsicle sticks.
8) Once it gets very cold, I will cover the shallot/garlic/onion bed with a tunnel of  heavy garden fabric and plastic.
If you never tried to grow shallots, give them a try.  They have a mild flavor.