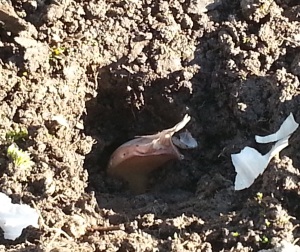 Fall is the best time to plant garlic.  I typically plant the garlic cloves between mid October through early November. I am looking for the temperatures to be around 50℉ or less during the day which is later October around here in Pittsburgh, PA.
Here are my  key planting steps:
1) Keep your garlic in a cool spot until you are ready to plant.
2) Loosen the soil – I use my Cobra Head garden tool.
3) I typically spread some balanced organic plant food that will slowly breakdown over the winter.  I am going to add some bone meal this year.  Bone meal adds phosphorus and calcium which is good for bulbs and root vegetables.
4) Take the garlic bulb and separate it into individual cloves.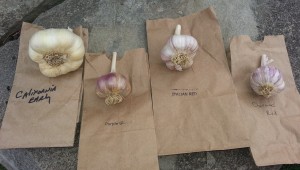 5)  Plant each clove with the pointy side up, 3″ deep and 4 to 6 inches apart. So 3 inches deep means that the bottom should be around 3" down from the soil line. At a minimum, I would take the width of the bulb and add 2 inches and that is a good rule of thumb as to how far apart to plant the cloves.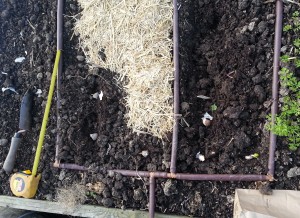 6) Cover the top of each clove with soil and then cover the bed with 2 inches of straw.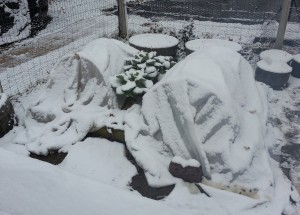 7) While you don't have to put a hoop tunnel and a cover over the garlic, I do if I am planting other veggies like shallots in the same bed.  I haven't noticed much difference in the garlic whether I use a cover or not.
Be patient until Spring when the green stems appear.  How simple is that!
If you want to see what types of garlic that I have grown in the past you can click on this link.  I am going to update this link next because I am trying a few new ones.