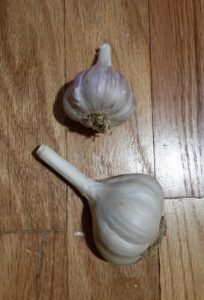 Before you start selecting which variety of garlic you want, you should understand the types that are available.  While there are many varieties of garlic, there are two main types -Softneck and Hardneck.
Softneck Garlic does not produce a flower, has a soft/flexible stem, is good for braiding, does well in warmer and cold climates and stores the longest.  Also, this type of garlic produces cloves in several layers around the central stem.  Softneck garlic tend to have a mild flavor.  Softnecks are preferred by commercial growers because of their long storage life.
Softnecks include the following two garlic families called Silverskin and Artichoke.
1) Silverskin garlic keeps the longest.    This variety can have up to 20 cloves and will store up to 12 months.  The wrappers are smooth, thin and usually white and the outer cloves are wider than the inner cloves.  Silverskin includes Nootka Rose, Silver White and other varieties.
2) Artichoke garlic is easier to grow even in warmer winter climates, has large bulbs with many smaller cloves (up to 20) in layers between 3 and 5, and stores well.  The wrappers are coarse and thick.   Artichoke includes Carlifornia White, Inchelium Red, Lorz Italian and other varieties.
Hardneck Garlic produces a flower scape, has a hard stem, grows well in  cooler climates, but doesn't store as long as the softnecks.   Hardnecks produce larger cloves.   Hardneck varieties are known to have more complex flavors.
Hardnecks include the following three garlic families called Rocambole, Porcelain and Purple Stripe:
1) Rocambole garlic has up to 10 cloves which are typically tan.  This variety typically stores for 6 months.  Racambole Garlic is known for having a rich flavor but a shorter storage life.   Rocambole includes Spanish Roja, Carpathian, Purple Italian, Kettle River Giant, German Red, Russian Red and other varieties.
2) Porcelain garlic has a white wrapper and fewer large cloves (around 4 to 6).   Porcelain includes Alberta, Enon, Armenian, Falston, German White, Russian Giant, Satin, Georgian Fire and other varieties..
3) Purple Stripe garlic has white wrappers with purple markings and around 10 cloves.  This type includes varieties that are sweet when baked. Purple Stripe includes Italian Red, Purple Glazer, Bogatyr, Metechi, Siberian, Chesnok Red and other varieties.
Don't forget to check out how to sow and grow garlic.