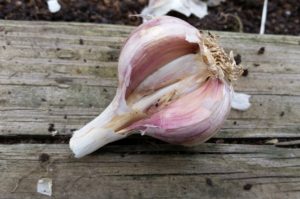 Chesnok Red garlic is large white bulb that has up to 10 cloves with purple striped wrappers. It's claim to fame is that is great for cooking and baking as it holds its medium hot flavor.   It is a hardneck variety of garlic that is in the purple stripe family.  
I recently posted about another hardneck variety that was in the rocambole family called Spanish Roja garlic.  The different families offer different features so check it out.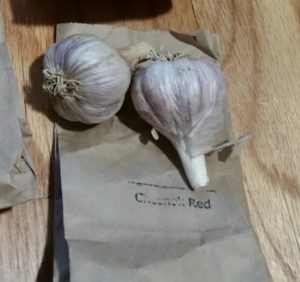 Chesnok Red garlic started out in Shvelisi, Republic of Georgia which means this garlic loves cold, harsh winters.  I hope it likes our Pittsburgh winters.  This is the first time I am growing this variety.  I planted 18 cloves of Chesnok Red which I purchased from Enon Valley Garlic.
I will have to do a taste test next summer and let you know which gourmet one I like better Chesnok Red or Spanish Roja.  Stay tuned – I have two more types of garlic I am growing this year.