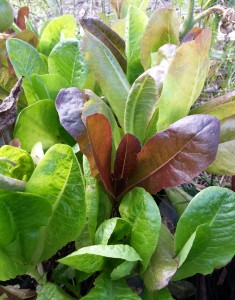 When I purchase lettuce seeds, I go for lots of variety.  I typically buy seed blends.  For instance, I am growing the following blends:
Valentine Blend from Botanical Interests which includes lettuce with reddish leaves.  This mix includes Lolla Rossa, Marveille de Quatre Saisons, Redina, Red Oakleaf, Red Salad Bowl, Rouge d'Hiver and Ruben's Red.
Gourmet Baby Greens Blend from Botanical Interests includes a mix of butterhead, leaf and romaine lettuce such as Buttercrunch, Black Seeded Simpson, Green Salad Bowl, Lolla Rossa, Red Oak Leaf and Rouge d'Hiver.
The Cook's Garden which is part of Burpee offers the All Season Romaine Blend which contains Craquerelle Du Midi, Forellenschluss, Little Gem, Rosalita and Rouge d'Hiver.  Wow – spell check does not like these names!
Last year I purchased All Season Butterhead Mix from the Cook's Garden collection which contains Four Seasons, Arctic King, Burpee's Bibb, Buttercrunch, Matchless and North Pole.  I don't see this option in the catalog but Burpee's website has an All Season Butterhead Mix which contains Green Bibb, Red Bibb, Winter Marvel and Buttercrunch.  I have noticed that some seeds offered at the stores are not offered by Burpee online or in the catalog.
Two more smaller blends that I grow are Oak Leaf Blend and Salad Bowl Blend.  Both blends include a red leaf and a green leaf version. Both of these varieties are more heat tolerant.
Last year I purchased Yankee Hardy Blend from High Mowing.  Unfortunately, the packet and the website do not tell you what varieties of lettuce are included.  This variety is great for fall and winter plantings.
If you want to purchase some individual seed packets, here are some ideas. . .  I am  still growing Parris Island Cos which is a lovely romaine and Speckles which is a cute butterhead type of lettuce.  I purchased these seeds from Botanical Interests.
If you want lots of choices for individual lettuce varieties, then you must check out High Mowing, Johnny's Selected Seeds and Territorial Seed.  High Mowing breaks down the options in the categories of  Leaf, Romaine, Summer Crisp, Butterhead/Bibb and Iceberg.  Johnny basically takes the same categories but breaks out Butterhead and Bibb and adds Heritage, Lollo, Salanova.  The lettuce categories for Territorial are Butterhead, Crisphead, French Crisp/Batavia, Looseleaf and Romaine.
Now Johnny explains the varieties nicely.  Bibb lettuce matures early and grows in a small rosette form with tender leaves.  Butterhead lettuce grows in a loose head form and the leaves have a sweet buttery flavor.  Heritage lettuce has been around a long time and has "stood the test of time".  Lollo lettuce has very curly leaves.  Oakleaf lettuce has lobed leaves.  Romaine has long, upright and crispy leaves.  Salanova lettuce is known for being more uniformed in size, good flavor and texture and a longer shelf life.  Summer Crisp Lettuce is tolerant of hot weather and is also known as French crisp or Batavia lettuce.
Do some research as there are lots of choices out there.
I recently updated my post on radicchio seed ideas so just click on it.