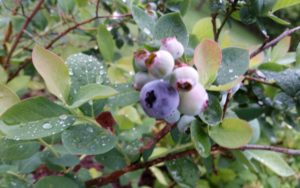 At our local nursery, I purchased a Peach Sorbet Blueberry plant from the Bushel and Berry collection a few years ago and added another one this year.   This plant grows up to 2 feet tall and falls into two categories of ornamental and edible.  The leaves are peach, pink, orange and emerald green with white flower in the spring.  The blueberries from this plant will be medium sized and have a tropical kick.  In the fall the leaves will turn purple.  This plant grows in zones 5 through 10.
At first, I thought I was picking the Peach Sorbet blueberries too early because they had that tropical taste that I wasn't expecting.  It's like when you take a big gulp of water, but it turns out to be lemonade.  While I love drinking water and lemonade, it's shocking because you don't expect it.  The same goes for this blueberry!  The plant label indicated "an abundant summer crop of healthy, sweet blueberries."  When I went to the company webpage, it indicates "an abundant summer crop of tropical flavored, sweet blueberries".
Another Bushel and Berry plant that I have is the Raspberry Shortcake.