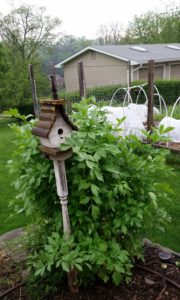 It is very easy to grow lovage from seed.  I direct sowed the seeds outdoors in the vegetable garden.  I would suggest planting a few seeds and then thin to one plant.  Since this plant is a perennial, you should pick a good spot for its forever home.  I transplanted my lovage plant in my herb garden.  Lovage like full sun and can tolerate a little shade.
In the Spring of the second year, my lovage plant sprouted early and grew up really fast – a little over 3 feet by early May.   This plant can get up to 8 feet tall.  I am trying to keep my lovage plant trimmed so it doesn't get that tall.  I would suggest trimming it when the stems are thin because they are hollow.
How easy is this plant!