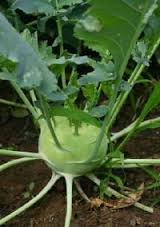 As for kohlrabi, I am growing Purple and White Vienna Blend from Botanical Interests and Superschmelz from Territorial Seed.  The Vienna kohlrabi should be harvested when the bulb is approximately 4 inches wide.  Burpee also offers Purple and White Vienna but not in a blend plus Sweet Vienna.
Superschmelz is a large kohlrabi between 8 to 10 inches bulbs.  Another large variety is Kossak which is sold by High Mowing and Johnny's Selected Seeds.
Also, Burpee offers Konan Hybrid which is a medium sized bulb that should be harvested between 4 to 6 inches.
Other purple varieties include Delicacy Purple and Blaril from Territorial and Azur Star and Kolibri from High Mowing Seeds and Johnny.
Other white/green varieties include Delicacy White, Konan and Korist from Territorial Seed. Johnny also sells Korist, Winner and Quickstar.   Korridor from High Mowing and Johnny and Lech from High Mowing.
Konan matures in only 42 days and the rest mature between 55 and 65 days.
So pick what interests you. . . color, size or maturity date.
If you have never eaten kohlrabi, it has a mild cabbage flavor.  I like to shred it on a salad or for slaw.