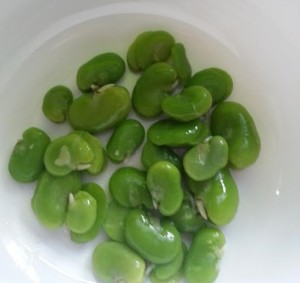 As for fava beans, I have been growing Broad Windsor seeds from Botanical Interests.  You can also find these seeds at High Mowing Seeds, Territorial Seed, Landreth Seeds, Johnny's Selected Seeds and Vermont Bean.  This plant is quite a beauty which grows up to 4 feet tall, has beautiful black and white flowers and the pods grow upright like okra.  The pods get up to 5 inches long and produce large seeds.  This one matures in about 80 days.
Sweet Lorane from Botanical Interests is a  small seeded variety and can mature by 65 days.
Robin Hood plants from Vermont Bean grow to 1 1/2 feet with pods containing 4 to 6 seeds.
Vroma pods from Johnny's grow up to 7 inches and produce up to 5 large seeds.  This one is more heat tolerant and matures in 75 days.
Landreth Seeds has a French variety called Aquadulce and grows up to 3 feet tall and the pods will grow up to 16 inches long  – wow!  This one is said to be very cold tolerant.