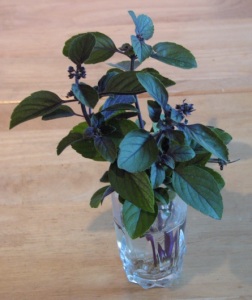 I was able to root my African Blue Basil by taking a cutting from the plant at the end of summer and putting it in a glass of water on my kitchen countertop.  After a few weeks, it started to root.  Someone in my family thought it was there to eat not root!  That person will remain nameless!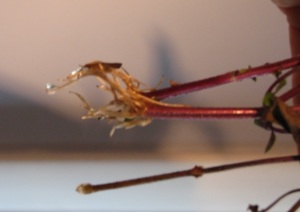 Thank goodness I had enough time to root another cutting.  Then I made a fatal mistake (I'm not perfect!), I put the basil plant in a cold frame to see how long it would last.    When it got really cold the basil didn't like it and wilted.
Next year, I will root a cutting and then pot it for an indoor plant for the winter.  Another option-  I think I will go to my local nursery and see if they have any African Blue Basil starter plants so I can see how well it grow indoors this year.
Since African Blue Basil grows so fast outdoors and is so hardy in the summer, I may include it elsewhere in my yard as edible landscaping next year.  I forgot to mention in my post titled "Fragrant Basil"  that you can't grow this type of basil from seed because the seeds are sterile so you have to grow by cuttings.