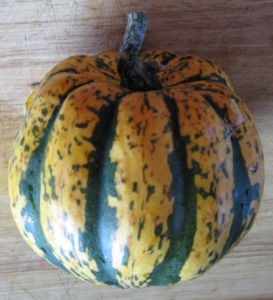 Sweet Dumpling Squash is a Winter Squash that matures in late Summer and the Fall.  While I haven't tried to grow it yet, I bought one at the Strip District in Pittsburgh, PA.  If you are not from around here, the Strip District is an area Downtown that has sidewalk vendors, produce stands, shops, restaurants and nightclubs.  When you visit here and it is nice and warm out, you gotta go check out the Strip District.
Okay, back to the topic of Sweet Dumpling Squash.  They are small squash that are usually one pound or less.    I decided to buy this squash before I grew it to see if I even liked it.  Mom and I ate half a one for lunch today and Alan took a taste test.  We all liked the sweet flavor.
Here is how I roasted it. . .
Ingredients:
Sweet Dumpling Squash (of course!)
2 tablespoons of Butter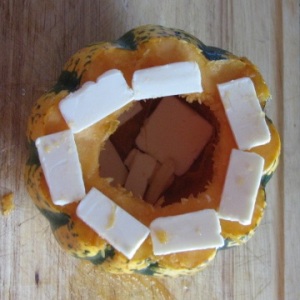 Cut the top off.  Scoop out the seeds and the stringy pulp to form a bowl which consists of the skin and the flesh.  Slice one tablespoon of butter and line the bottom of the squash bowl.  Slice the other tablespoon of butter and line the rim of the squash bowl.
Put the squash in a glass baking dish lightly sprayed  with butter cooking spray.  Cover with aluminum foil and roast it in the oven at 375 degrees for 30 minutes.  Then uncover it and bake for another 15 minutes or more.  Slice and serve.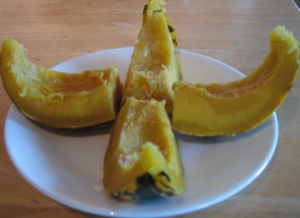 I would recommend NOT eating the skin!