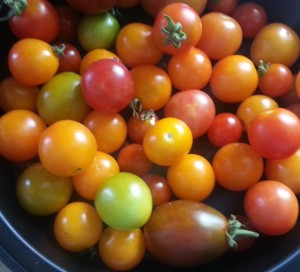 I harvest tomatoes after they turn to majority of their forever color.  Unless you want fried green tomatoes, you should harvest tomatoes when they are red, yellow, brown, etc.  If you are not sure if the tomato is ready, don't be shy and just call the seed company.
When harvesting, you can gently twist it off the vine or use scissors or clippers to cut it.  If you are a bit early, you can let the tomato finish ripening on a rack in your home just not in your refrigerator as the cold will not allow the ripening process to continue.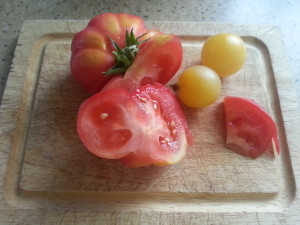 As with most plants, if you let the vegetable/fruit grow too large or go way past maturity, the plant may shut down.  This happens with many vegetables/fruit including zucchini, cucumbers and tomatoes.
As for storing tomatoes, I like to keep them at room temperature for a few days.  My room temperature in the kitchen does include some air conditioning!  Once they ripen and I need to slow down the process, I will put the tomatoes in the refrigerator.  We often need to slow down the process until the weekend when we have a little bit of time to can.
While I keep saying that I am going to try and freeze my tomatoes or dehydrate them, I haven't tried either yet as we typically run out of freezer room!  Instead, we usually either 1) eat the tomatoes fresh on a salad or grill them, 2) make and can charred salsa or 3) make and can spaghetti.