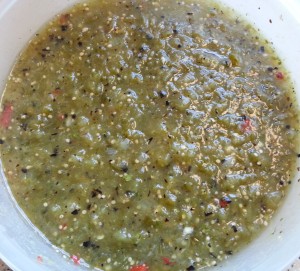 It is time to kick up the salsa verde recipe from last year by fire roasting and charring the vegetables as well as using hot peppers. Last year, I grew and used home grown jalapenos but they were not hot. I just like it to be medium hot like Goya's Salsa Verde.
Ingredients:
8 – 10 tomatillos (depends on the size of the tomatillos and how much you want).
2 – 3 jalapenos  or other peppers, poblano, anaheim peppers (depends on the size and how hot you like it)
1 medium onion
1  garlic clove
Coarse kosher salt or adobo seasoning
Ground Pepper
Cumin
Fresh Cilantro
1/2 a Lime
It never hurts to taste test as you go before canning it so you can tweak the ingredients. We grew the tomatillos, peppers, garlic, onion and cilantro in the garden.   Confession – Alan used a cayenne pepper but it was way to hot so we had to add more tomatillos to tone it down.  Before using a cayenne, I would taste test it.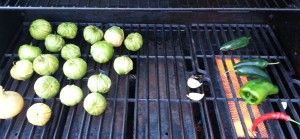 As for charring, Alan used the BBQ grill. He used the searing station on the grill for the peppers and put the rest of the veggies on the regular part of the grill. Char the tomatillos while they are in their husk and while the onion is still in its skin. Roast the peppers and garlic till charred, then set aside on a baking tray till the onion and tomatillos are done.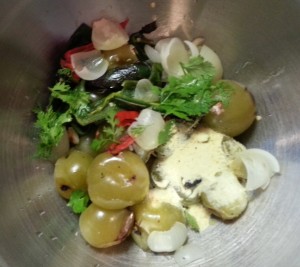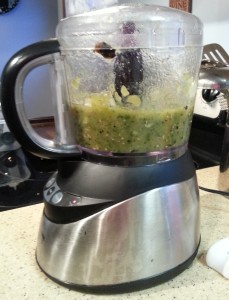 Cook the tomatillos and onion until they are soft to touch (or burst) and remove from the fire. Let them cool down. Cut the stems of the peppers and the ends off the garlic and onions.  Remove the outer skin of the onion and the husk from the tomatillos as well as the stem area which is hard.  Put the ingredients including the charred skin (except for the onion skin and tomatillo husk) and seeds (or not) in the food processor.  Sprinkle with salt/adobo, pepper and cumin.
If you like cilantro, add to the food processor.  Squeeze the juice from the lime.  Mix it all together by pulsing in the food processor until you get the desired consistency.
It tastes fantastic! I love salsa verde on omelettes or eggs and with chip and Mexican dishes.
We also made charred salsa this year.  Check out the link!