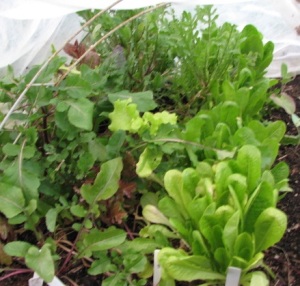 Here is a list of COOL SEASON VEGETABLES:
Asparagus, Arugula, Beets, Bok Choy, Broccoli, Brussels Sprouts, Cabbage, Chinese Cabbage, Carrots, Cauliflower,  Claytonia, Collards, Endive, Fava Beans, Garlic, Kale, Kohlrabi, Leeks, Lettuce, Mache, Mustard, Onion, Parsnip, Peas, Radicchio, Radish, Romanesco, Rutabaga, Scallions, Shallot, Snow Peas, Sorrel, Sugar Snap Peas, Spinach, Swiss Chard,  Sweet Potatoes, Tatsoi, and Turnip.
If you noticed the above list consists of greens, the cabbage family, the onion family and root vegetables.
Under my new T5 lights, I am starting to grow the following indoors:   various greens in early January which I've been snipping off and eating, the cabbage family in early February, and  onion, shallot and leek seeds in late February.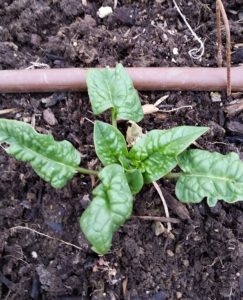 I usually plant my garlic cloves and shallot sets in the fall.  I've tried growing onion sets under cover over the winter but I had mixed results.  Last year, I started scallion seeds, endive, spinach and tatsoi in late summer/early fall.  I left them in the ground over the winter under a hoop tunnel with a plastic covering.  When we get warm days, I've been venting the covers and the plants are starting to grow now.  Of course, we got a cold spell.  In March, I am going to start direct sowing the seeds for the root vegetables and the pea family outside under cover.
Some vegetables need a full summer season to grow and then enjoy being harvested in the fall/winter like brussels sprouts.  Some plants just taste better in the cooler weather like kale.  Some cool season vegetables may bolt easily with the summer heat like cauliflower, spinach and lettuce.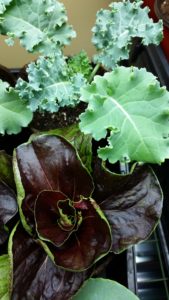 Here are a couple of sources for cool season ideas.  Botanical Interests has a tab for all of its "Cool Season" vegetables.  Territorial Seeds has a "Winter Gardening Chart" available online which is very helpful.  Niki Jabbour wrote "The Year-Round Vegetable Gardener" which is a fantastic source.  My thought is if Niki can grow vegetables in Nova Scotia in the fall and winter, I can certainly grow them in Pittsburgh, PA.