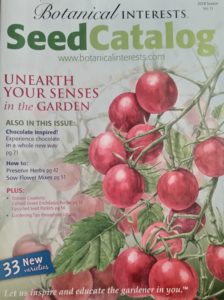 The first seed catalog that I received this year was from Botanical Interests.   While I can find a lot of seeds from Botanical Interests at nurseries, hardware stores and grocery stores, there are more choices online and in the seed catalog.
The following are some of the reasons I like Botanical Interests. . .
The plant paintings that appear in the catalog, online and on the seed packets are beautiful.
While the catalog offers some growing and harvesting tips, the seed packets offer a lot more on the outside and the inside that you don't find in the catalog or online.
The Botanical seed packets are reasonably priced.  A lot of them are under $3.00 for a packet.  The shipping is priced by the total cost of your order.  For instance, if you the order is between $20 and $49.99, you will be charged $8.95 for shipping.  You should sign up for their email notifications since Botanical Interests will periodically offer free shipping.
The vegetable, fruit, herb and flower seed blends/mixes are great.  I absolutely love the cherry tomato,  lettuce, beet, microgreen, and basil blends.  You can get more varieties in one packet.  The seeds for a lot of the blends are color coded.  My favorite color coded one is the Rainbow Blend of cherry tomatoes.
There are also many single variety choices for vegetables, fruit, herbs and flowers. I love their hot pepper, tomato, carrots, arugula and lettuce choices.  My favorite hot pepper is Jalafuego.
Botanical lets you know which varieties are new in the catalog and online so you can focus your search.  For instance, they are now offering Avalanche Beets which I plan on buying.
According to Botanical, all their seeds are untreated and there are no GMOs.
They identify which seeds are organic and offer many heirlooms.