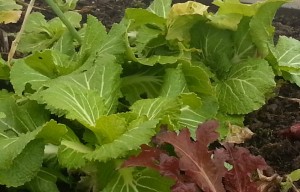 Since today was the St. Patrick's Day Parade in Pittsburgh, I thought I would blog about cabbage – the last of the brassica that I grow!   Even though cabbage is popular with the Irish, I grow Chinese cabbage because it is so mild tasting.
Last year I grew Orient Express Cabbage from Burpee's Asian collection which I am growing again this year.   It is very heat-resistant and the leaves are sweet and crisp.  It matures in 43 days.  Last year I harvested the leaves when they reached about 4 inches instead of waiting until the heads formed.   The picture above is the Chinese cabbage that I grew over the winter in a cold frame.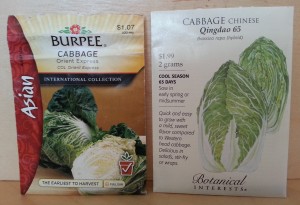 I am also trying a taller head of Chinese Cabbage called Qingdao 65 from Botanical Interests this year.  It matures in 65 days.  The package suggests sowing it in the spring for young salad leaves or in late summer for a fall crop of full-sized cabbages.  It prefers temperatures between 60 – 65 degrees.
I started the above seeds in pellets on March 1st and have already moved the seedlings to peat pots.   Don't forget that these cool season plants can go in the ground in the spring and again in late summer for a fall crop.