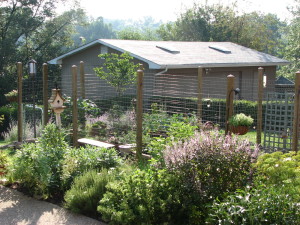 Is it a fort or a vegetable garden?  Well my handy husband built me a garden that will withstand a natural disaster and any wildlife attack! I'm really not making fun of him – I love the garden!
Let's get down to the details.  The garden is 16 ft by 24 ft and the fencing is 6 ft high.   He used eleven 4 in x 4 in posts.   The fencing is made of galvanized steel.   While the deer have NOT figured out how to get into the garden, we did have a young groundhog that squeezed through a space in the fence so we the used tie wraps to connect chicken wire along the bottom.   So far so good – we haven't seen another groundhog breaking and entering!  One regret that I have is that we didn't install a taller door – it is only 4 ft high and my cat can easily climb right in there and can do a lot of damage to any young plants.  For our temporary fix which has lasted several years,  we attached black plastic deer netting  with tie wrap at the top of the door so the cat can't get in.
In a future post, we will talk about the vegetable beds that we installed.