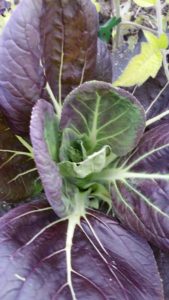 This is a pretty and smaller pac choi or bok choy.  Here is what I love about this one:  1) it is purple on top with green veins on top and green underneath so it provides a nice contrast in the garden, 2) it is much slower to bolt than other varieties that I have grown, 3) it is a bit more resistant to slugs and 4) it has a nice sweet flavor.
If you are looking for these seeds, check out Territorial Seeds under the Asian Greens and Vegetable tab and then under the Pac Choi tab or do a search for Pac Choi.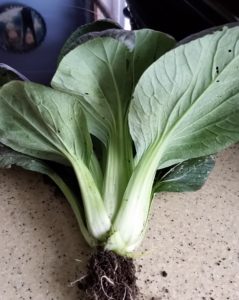 This year I started my seeds indoors before transplanting.  I transplanted them at the beginning of April.  About two weeks ago, I transplanted a few more.
It is recommended to use this variety when the leaves are smaller on salads and to stir fry when larger.   I think I am going to try grilling it this weekend.