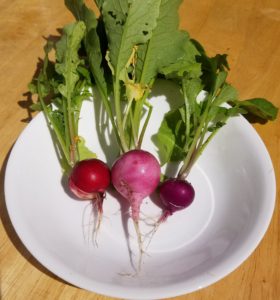 This is the first year that I am growing Easter Egg Radishes.  I purchased these seeds from Botanical Interests.  While they look like the round radishes that you see in the supermarket, they come in a variety of colors including red, white, rose pink, purple, and bi-color (red top, white base).
Most radishes grow best in the spring and fall and like consistent moisture.  Easter Egg Radishes can split if they receive too much water.  I found out the hard way this year.  A few split because the battery in my remote sensor for my watering system died causing my radishes to receive double the amount of water from heavy rains and from the watering system.
Easter Egg Radishes should be planted 1/2 inch below the surface and 1 inch apart.  This variety matures in 30 days and should be harvested when the radish is under 1 1/2 inches wide.  If they get wider, they will get hot!
Check out my prior post on how to sow and grow radishes.