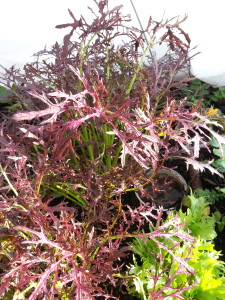 There are a few vegetables that I grew over the winter.   I was successful with growing mustard, endive & radicchio over the winter under a hoop tunnel.  If I knew how well they would hold up outside over the winter and how mild our winter would be, I would have grown more!   During the winter, I used All Purpose Fabric and 8 mil plastic on my hoop tunnels to protect the plants from frost/snow.  Now that it is Spring, I removed the 8 mil plastic.  See my posts about coverings for hoop tunnels.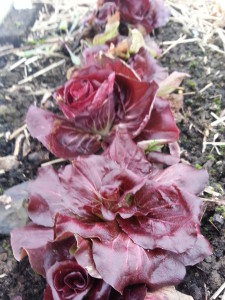 As for the hoop tunnels, I am growing the mustard and endive under the Super Hoops that I purchased and the radicchio under the higher tunnel that we built with pvc pipes.
I purchased the seeds for these three plants from Botanical Interests.  The mustard is called Ruby Streaks, The endive is Olesh Tres Fine and the radicchio is Palla Rossa Mavrik.