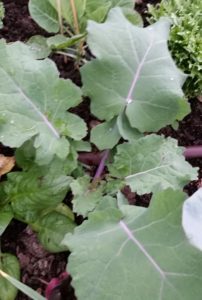 While I received the Red Russian Kale seeds from a gardening friend/cousin, they can be purchased from High Mowing, Burpee and Johnny's Selected Seeds.  This variety of kale is very tender even when the leaves get large.  The leaves look like big oak leaves and are a gray green with purple veins.  This plant matures in 50 days and can grow up to 3 feet tall.
Rumor has it that this plant is very cold tolerant so I will see how long it survives our winter next year.
If you missed my post on kale seedlings, just click on the link.