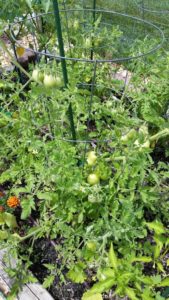 I sow my bush/determinate tomato seeds in late February or early March indoors in my portable greenhouse.  For seed ideas for bush tomatoes , please click on the link.
Since our expected last spring frost is in mid-May, most people in Pittsburgh use Memorial Day weekend to start planting their tomatoes. I usually push the date and put them under cover earlier with a hoop and a lightweight fabric just in case the weather gets bad in early to mid May.
Don't forget to harden off the plants by taking them outside for a few hours each day for about a week. They like to get acclimated to the weather during the day.
When you are growing the seedlings indoors, don't worry if they start to get tall and skinny.  Once the seedlings are transplanted outside in the heat they will perk up and get "bushy".  When you plant the seedlings, you can plant about half of the stem underground.  Tomato plants will grow more roots along the part of the stem that gets buried underground.  Bush tomatoes need some room to grow so I plant them about 2 feet apart.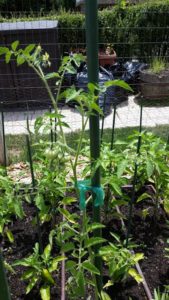 Also, I like to gently tie the stem of the tomato plant with Vigoro stretch tie to a sturdy stake that is about 4 to 5 feet tall for bush/determinate tomatoes.  For the bush tomatoes, I use a circular tomato cage to give the stems support.  I started using the Vigoro stretch tie a few years ago.  It is a winner to use with tomato plants because the branches and stems can get bruised if you just use string.  Give it a try!
Tomato plants definitely prefer the soaker hoses instead of overhead sprinklers to keep any diseases down to a minimum.
Last year, I started to use the organic tomato food called Tomato-tone by Espoma.  The tomatoes seem to love it.   According to the package instructions, you should sprinkle 3 tablespoons around the base of the plant.  When I apply the Tomato-tone, I usually water the plant and the plant food with a watering can so I make sure that the food gets down in the soil.  This plant food has a little extra calcium in it which is great for preventing blossom end rot.  I use it about once a month during the growing season.
Another thing to consider is an organic fish fertilizer.  Veggies really like it!
We will talk about pole tomatoes soon.