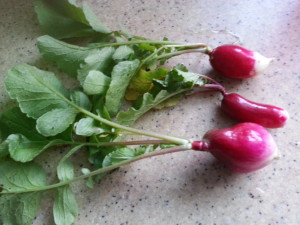 There are two main types of radishes: 1) spring radishes and 2) winter radishes.   Don't let the spring radish name fool you because it can be planted in the spring or fall!   Some examples of spring radishes include French Breakfast and the red globes that you can find at the grocery store.  spring radishes typically mature in around 20 days.  Winter radishes take longer to mature and include watermelon and daikon radishes.
Radishes are a member of the cabbage family and are  root veggies.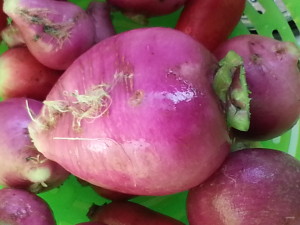 Keep in mind that radishes will germinate in soil temperature between 45 and 80 degrees Fahrenheit.  I would sow spring radish seeds up to 2 months before the first Spring frost outside under cover.  You can sow succession crops through early summer as long as you give them shade and water.   I would plant them under your tomato plants or put them under a hoop tunnel with a lightweight shade fabric.  Since they mature so fast, you can keep planting the Spring radishes up to approximately 2 weeks before the first Fall frost.  Don't forget that they are harder to grow in the summer!  Other than cool temperatures, shade and moisture, Spring radishes are easy to grow.  I think the better or milder tasting ones are the ones harvested when the temperature is cooler.  Don't forget about my post on seed ideas for spring radishes.
As for Winter radishes, they prefer to be planted around 2 months before the first Fall frost.  If you put them under cover, you can achieve a longer sowing period.  Also, you may want to add some mulch such as straw to protect the roots from the temperature changes.
Overall you should plant radish seeds about a 1/2″ deep.  While you should read your seed packet, most Spring radish seeds should be 2″ apart and Winter radishes should be up to 5″ apart.  Typically, I don't have to give radishes any plant foot.  If I did, it would be a balanced plant food or some bone meal which is good for root growth.
While I have not had any bug issues with the root of the radish, I have had flea beetles nibble on the leaves.  I usually don't notice the flea beetles flying around, but I do notice the bites which are tiny holes in the leaves.
Be adventurous and try different types!