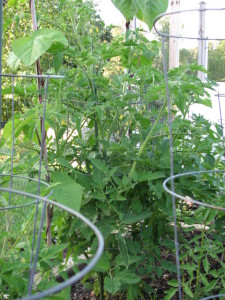 When you are purchasing tomato seeds, check to see if they are determinate or indeterminate.   Determinate tomato plants grow in a bush form.  Indeterminate tomato plants grow on a pole in a vine form.
The following are some options for round red tomatoes:
Botanical Interest offers Ace 55, Better Bush which is a good choice for a container, Glacier which is cold tolerant and Red Pride which is a dependable one. I've been growing Glacier.
Burpee offers four hybrids that are larger beefsteak tomatoes.
High Mowing Seeds sells Mountain Princess which is productive and bears fruit early and a heirloom called Moskvich
Johnny's Selected Seeds has a determinate section that includes Polbig and Oregon Spring that are more cold tolerant, Mountain Merit which bears 8-10 oz fruit and Skyway for the beefsteak lovers which come in at 8-12 oz.
Territorial breaks their tomatoes into early and main season tomatoes so you have to hunt for determinate types. Their options include Glacier, Tasti-Lee, Oregon Spring and Betty.
As for colorful (non-red) determinate tomato, I found the following:
Yellow – Johnny's and Territorial offer Taxi and High Mowing
Orange – Burpee offers Sweet Tangerine, Johnny's sells BHN-871 which is orange – I would never have guessed it with that name!
If you are into canning, you should grow some meaty & oblong Roma tomatoes.  The following are some of the determinate options:
Botanical Interest sells Italian Roma which I love (see below) and Supremo.
Burpee sells Patio Paste Hybrid and Roma VF. High Mowing also offers Roma VF.
Johnny's sells Paisano, Plum Regal & Monica
Territorial sells Heinz 2653 (see below)
Two years ago, I found my two favorite bush tomato plants which are Glacier and Italian Roma from Botanical Interests.   Glacier tomatoes mature in 55 days from transplanting and are round tomatoes that grow to about up to 3 inches wide.  This variety produces from late Spring to Fall.  This plant will grow to 2.5 feet high and 3.5 feet wide.  I can confirm the following that the taste is great.  This year, I am going vertical and growing more indeterminate tomato plants.  Previously, I grew two or three of this tomato plant but now I may cut it down to one.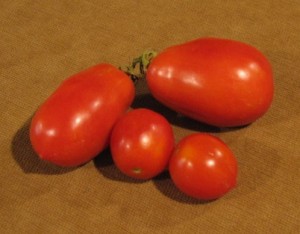 Also, I am growing Italian Roma heirloom tomatoes AGAIN because they are firm and meaty.  I never liked Roma tomatoes but this one tastes great – I double dare you to try it.  They are great for canning! These oblong tomatoes grow to 3 inches long.  This plant matures in 80 days and will grow to 3 feet high and 18 inches wide.
Our preference is to use the round ones for salads, slicing and grilling and the Roma tomatoes for canning spaghetti sauce and salsa!
I am assuming that with the name of Heinz 2653 from Territorial Seed, it may be one of the key ingredients of Heinz Ketchup.  As you may recall, I am from Pittsburgh which is where Heinz Ketchup was born!  For those of you not from Pittsburgh, I hope you are not denied the ability to buy Heinz Ketchup.  When I lived out West, I ran into a few restaurants that did not serve Heinz Ketchup.  What????  Of course, I had to tell the owners that they must serve ketchup not catsup – who wants that?  If you are going to serve fries, don't be cheap!  Serve the real thing!  That is my 'Burgh story and I am sticking to it.
We will be talking about seed ideas for indeterminate tomato plant soon!  If you missed my posted on tiny tomatoes, please see click on the link.