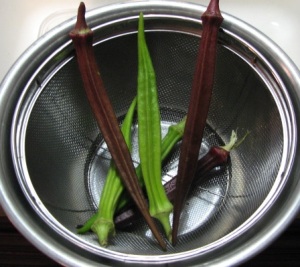 Once you harvest the okra, you need to cook it or store it.  I tried making fried okra several years ago after I had it at Cracker Barrel Restaurant.   The recipe that I found on the internet was so labor intensive that I just wanted to scream.  I decided to search the internet again for an easy recipe which I found on Food.com.  I made a few changes.
I tried the recipe with the first 6 okra that I picked.  First of all, you really should pick the okra when it is smaller like the three on the bottom in the picture above because they are more tender at that stage.
Ingredients:
6 to 8  okra

3

tablespoons all-purpose flour

1 1/2

cups

yellow plain cornmeal

1

egg

coarse kosher salt

pepper
Wash okra and cut into 1/2 inch rounds.  Put the okra in a mixing bowl and sprinkle with flour. Stir it to coat evenly.  Put the floured okra in a wire strainer to remove the excess flour.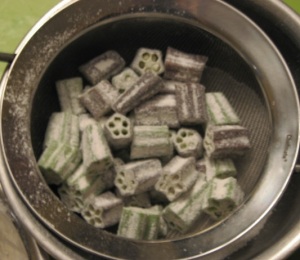 Add an egg to the mixing bowl and beat it.   Add the floured okra to the egg.  Stir to cover each piece of okra.
Place cornmeal in zipper bag with a sprinkle of the salt and pepper.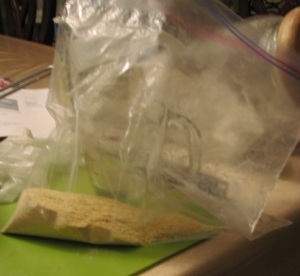 Add okra and shake until each piece is coated.  This method is very easy!
Now you have to fry it or freeze it.  I froze each piece individually by putting it on a wire rack on top of a cookie sheet for about 20 minutes in the freezer.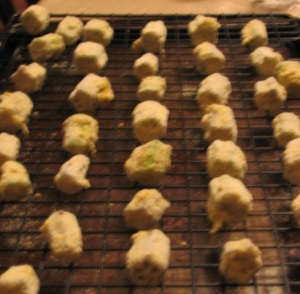 I put each piece of frozen okra in a container and stored them in a freezer container.  It helps if you put them in the freezer too!
I took them out tonight right before frying.  I used 1/2 inch of oil in a pan.  Once the oil was hot enough, I fried them until they were golden brown.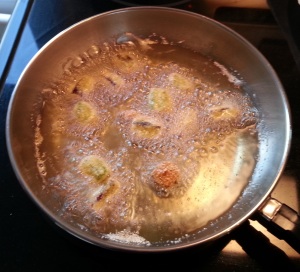 I let the fried okra drain on some paper towels until ready to plate.
They were really good!  Oh and don't forget the Sweet Baby Ray's Barbeque Sauce.