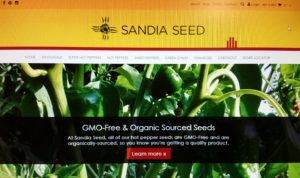 While I often request the catalogs from seed companies, I don't think Sandia Seed offers a paper catalog so check out their website.  Their focus is providing sweet to super hot peppers and tomatoes.
You know we love to make salsa and Mexican dishes so we grow quite a few hot pepper varieties.   We also infuse hot peppers into some cocktails -yummy!
While I don't purchase any of the Super Hot Peppers, Sandia Seed offers some great choices.  This category includes peppers with a heat exceeding 450,000 Scoville heat units.  The following are just a few that also have great "super hot" names:
Bhut Jolokia or the Ghost Pepper comes in varieties that are red, chocolate, peach, purple, white and yellow
Carolina Reaper Seeds
Devil's Tongue
Trinidad Scorpion
Hot Pepper Seeds are great for ground chile powders, pepper flakes, pepper infused drinks, jellies, etc.  Sandia includes peppers that are spicy but edible with a heat range of 12,000 to 450,000 Scovilles in the Hot Pepper category!  Here are a few in this category:
Ring of Fire Cayenne  – I grew this one several years ago and I am going back to it.  It is a very productive plant of hot cayenne peppers.
NuMex Twilight – This one is a beautiful ornamental that is also edible.  I plant this one in containers.  Click on the link to learn more about it.
Green Chile Peppers are great for chile rellono, stews etc.  This category has peppers under 12,000 Scovilles.
Guajillo – I found Sandia Seed  after we dined at a Mexican restaurant in downtown Pittsburgh called Tako (yes I spelled it right).  My husband decided that we had to grow guajillo peppers.  We did a search online for guajillo pepper seeds and found Sandia Seeds.
There are other peppers in this category that I am sure you will recognize such as green hatch peppers, poblanos, Anaheim green chilies and jalapenos.
The sweet pepper category has some interesting choices such as Sweet Fushimi, Sweet Cubanelle, Giant Marconi, Pepperoncini. I purchased the good old Sweet Banana pepper from Sandia Seeds.  It is an oldie but goodie! I grew Sweet Banana peppers years ago for my Italian dishes but I have had a difficult time finding seed companies selling this one.  Good to know that Sandia carries it.
In the tomato category, they have 32 varieties many of which are heirlooms with a few hybrids.  One interesting variety is the Heinz VF Heirloom from the 1930's that is great for sauce or ketchup!  Of course, I still love Heinz ketchup not only because of the Pittsburgh connection but also because it is so darn good.
If you are looking for a great hot pepper t-shirt, check out the Sandia Seed website.