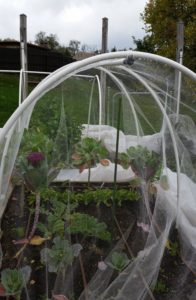 If you are growing anything in the cabbage family, you have to know by now that the cabbage worms love to devour the leaves and plants of this veggie family.  Well I have been experimenting on finding the perfect barrier against the cabbage moth which drops off its eggs which then become the cabbage worms.  Now it is important to think of an organic barrier that doesn't involve the use of chemicals on your veggies!
I previously used a lightweight fabric, but it prevented some of the rain and sun.  All of the netting that I was trying to use had a space just large enough that the cabbage moth could find its way through and the netting was not wide enough for my hoop tunnel.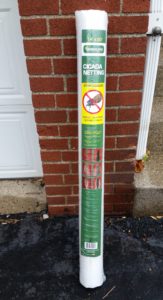 About a month ago, I came across this netting on sale at Lowes called Cicada Netting made by Greenscapes that has tiny holes or spacing that is 1/8″.  While it is a tiny opening, it still lets the rain and sunshine in and allows you to easily see how the plants are doing.   Also, the rolls of netting are wide and long (14′ x 50′) so I can cut the netting to fit over my large pvc pipe tunnels on the raised beds.  It is white and seems to hold up well with the weather too.  While it might be helpful for protection from Cicadas, it is a great barrier for cabbage moths!  Who knows maybe they will change the name to Cabbage Moth Netting!
Two helpful tips:  1) Don't let the netting touch the leaves of the cabbage family plants because the cabbage moth may still be able to drop off her eggs! 2)  Keep the netting on all year – every time I think the cabbage moths are gone, they show up again!