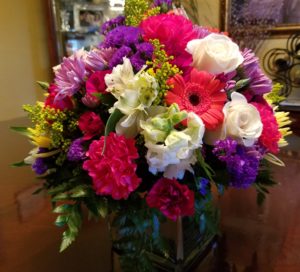 First of all, I am so far behind with my gardening blog.  The reason why is that my Mom had a seizure on Valentine's Day.  We put our free time on hold to rally around her in her recovery efforts.  She is quite a trooper and has improved a lot!
After one week at the hospital and one week at a skilled nursing facility, I can tell you that not everyone is blessed with a caring family or family that lives close by.   One way to help someone who is ill is to make a phone call or send a card, a text or flowers.   While I am done lecturing for now, please take a minute and brighten up someone's day!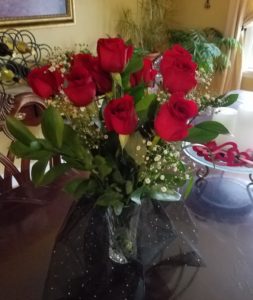 I love flowers!! I can't help it.  Their beauty puts a smile on my face.  Right before Valentine's Day, my husband brought home yellow roses for Mom and red roses for me.  How sweet it is!
When my Mom was recovering, my cousins sent the top flower arrangement.  It sure is pretty!  Look at all the different types of flowers.  I think I will have to do a post on flower seed choices soon!
I still think about the beautiful roses that I saw at the hatchery in Oregon.