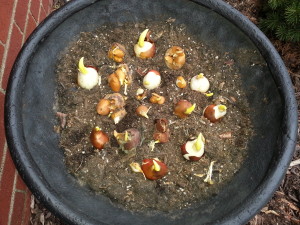 I originally bought tulip and hyacinth bulbs to plant in the ground a few years ago in the fall.   I couldn't figure out where I should plant them so I would remember where they were each year.  While they do not last that long, they sure are pretty.  One of the gardeners at a local nursery  told me that he stores them until March and puts them in planters in the Spring. What a great idea for anyone who likes to use containers for gardening.
So the last few years, I've been storing the bulbs in brown bags and keeping them in the garage to stay cool over the winter.  At some point in March I take them out and plant them.  While the bulbs like the cold, this year has been so cold  I haven't felt like planting them – until today!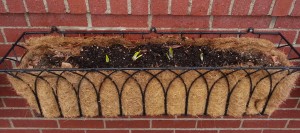 I planted the purple hyacinths in two of the hanging baskets and the pink tulips in the freshly painted black planters (see the blog from yesterday titled Hardening Off and Getting the Planters Ready) in the front of the house.    After I position the bulbs, I add dirt but leave some of the new growth exposed.  Then I water them of course!!  I also have some orange tulips that I will plant in planters in the back of the house at some point this week.  Stay tuned for pictures.