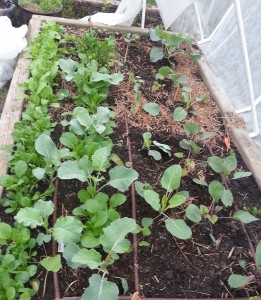 Brussels sprouts, broccoli, chinese cabbage, cauliflower, pac choi (bok choy),  corn salad (mache), kohlrabi, tatsoi, celery and celeriac make good companions for a raised bed.  Was that a mouth full!  Now all of the vegetables listed above except for celery and celeriac are part of the cabbage family.  There are two main reasons that I typically group the  cabbage family in one or two raised beds.  1) They love maturing in cool weather. 2) Many bad bugs love this plant family.  By grouping these veggies in a raised bed, it is easier to protect them with a cover or a net barrier.    For more information, on the cabbage family click on this link.
Now I am sure you are thinking why on earth would I plant celery and celeriac with the cabbage family.   Here is why: 1) Why not?  2) Rumor has it that celery is a good companion for the cabbage family as it is aromatic and deters the bad bugs.  I still use the net barrier because the cabbage moths and worms are abundant where I live!  3) While I will have to dig out the celeriac roots which grow under the ground, they typically mature  in the Fall with brussels sprouts and celery.  These plants mature in around 100 days.  Keep in mind that many of the other cabbage family vegetables mature faster.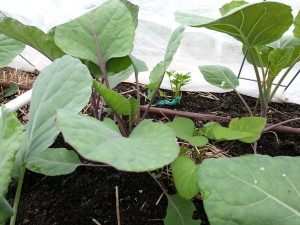 So it is confession time. . . I updated this post because I previously included sweet potatoes as a potential good companion based on the long maturity date of close to 100 days.  Based on my experience, I have removed sweet potatoes from this category.  It was difficult to find the sweet potatoes in the raised bed because  they spread out underground.  Also it was difficult to avoid injuring the roots of the other veggies that were growing nearby when I was harvesting the sweet potatoes.  This past year I grew the sweet potatoes in grow bags and had a bumper crop.
Other good companions for the cabbage family, celery and celeriac are fast maturing leafy greens like spinach, mustard, arugula, endive, corn salad and swiss chard.  These greens like to be planted in the early spring and mature in 60 days and under.  Instead of greens, you can also plant radishes.   Since these companions mature quickly, you can have them growing in between the long maturing plants. This helps you get more veggies per square foot!