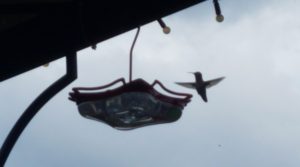 I haven't seen a hummingbird all summer in my yard until last week.  My son and I were in the dining room and a hummingbird come up to the window and just stopped for a few seconds and looked as shocked to see us as we were to see him/her.
Just below the dining room window I have some pretty red zinnias in a planter basket that I thought was attracting the hummingbirds.  Later on, I found out some of my neighbors had the types of flowers that hummingbirds like.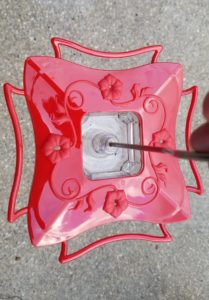 When my hubby found out about the sighting, he went and bought a pretty cool feeder from Wild Birds Unlimited.  It is so easy to use.  The red topper come off easily and there is a moat in the middle to catch any stray ants.
The suggested recipe that came with the feeder  is to boil one cup of water and then dissolve 1/4 cup of sugar.  After the sugar water cools, pour it into the feeder.  You need to clean and change it every four days.  So simple!
So far, we have seen a brown and a green backed hummingbird!  So cute but too fast to capture the perfect picture!
If you missed my post on the upside down suet feeder, just click on the link.