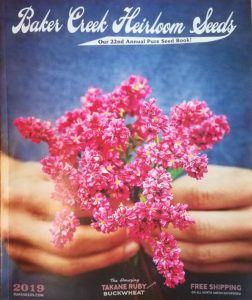 While the Baker Creek Heirloom Seeds catalog has some beautiful photographs, it also offers some unique options for the adventurous gardener.  Here is what I like about Baker Creek:
They carry many unique varieties and have a large selection of heirlooms.
These rare seeds come from around the world.  Last year the owners traveled to China and Japan.  While they are offering  some new seed varieties from these two countries, they also adopted two children from China – love it!
Baker Creek offers some live plants including various fruits and sweet potato plants.
As for vegetable seeds,  I love the Cherokee Trail of Tears pole bean which produces lots of black beans and Magnolia Blossom Tendril Pea which produces peas (of course) and tons of tendrils that you can use in salads.
Here are some seeds that caught my eye . . .Fort Portal Jade Bean which is a dry bean, Chinese Python Snake Bean, Iantos Fava Bean, Chinese Celery which comes in pink or white, Celtuce from China, Sichuan Red Beauty Radish, Navone Yellow Cabbage Turnip, Micro Tom Tomato, Reisetomate Tomato and Beni Kodima Melon.  While I like to grow the basics, I do like to try something new each year.  This year's pick might be the Chinese Celery.
Baker Creek is now offering free shipping which is a big bonus!
If you missed my post on Botanical Interests, just check it out!