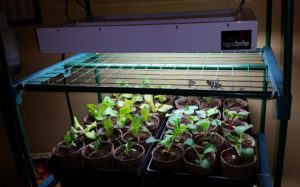 After a very good recommendation from my gardening buddy, Sheri, I switched my grow lights to T5 6400 K tubes.  Since I couldn't find the light fixtures locally, I purchased two Agrobrite T5 light fixtures from Amazon.  Each fixture holds four T5 grow lights.  If you check them out, you will find the following options:  2ft or 4ft long fixtures that hold 2, 4, 6, 8 or 12 T5 tubes.  Because of the width and depth of my portable greenhouse, I decided to go with the T5 fixture that is 2 feet long and has 4 T5 tubes.  It measures 3″H x 13.5″W x 23″L.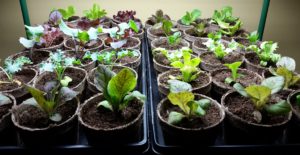 I have to admit that I thought the 4 tubes would be overkill and that the fixture was too expensive.  After one month of growing my lettuce and other greens indoors, I can't believe the difference!  I plan to use the lights in the winter time to grow greens, radishes and possibly carrots.  I can't wait to see the difference with growing my other vegetables that need to start indoors before the last frost.   I can also use these lights to start other transplants for late summer and fall growing.
I connected the lights to my portable green house with tie wraps.  While some people rely on duct tape to fix everything, I like tie wraps!
Another bonus is that the tubes and the fixtures were really well packaged!