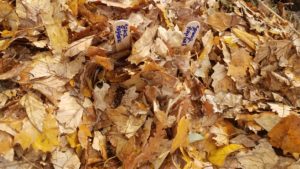 While leaf mold sounds disgusting, it is awesome for your garden!  When I was starting to compost last year, I read Eliot Coleman's book titled "Four-Season Harvest".   He discussed how leaf mold is a soil builder.  Also, if you put them in a large pile, they will decompose in 2 to 3 years.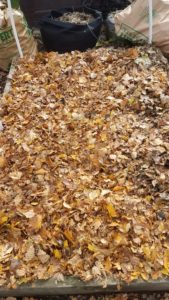 Next, I took a look at Patrick's One Yard Revolution You Tube video from Nov. 2017 titled "How I Prep Our Garden for Winter with Free Autumn Leaves and Wood Chips".    His advice is to put at least 4 inches of autumn leaves on your garden beds.
Personally, I like Patrick's method.  Here are my tips for preparing your raised beds for the fall:
If your soil is too compacted, then use a hand shovel or a Cobra tool and loosen it up.
If you have some leftover balanced plant food or used coffee grounds, sprinkle it on top of the soil.
Add a thick layer of leaves.
Use a watering can to wet the leaves so they don't blow around.  If you run into a dry spell in the fall, then you may need to repeat this step.
As the leaves get compacted or decompose, you can add more leaves and more water.
By the end of Spring, the leaves should be decomposed.
Here are the benefits:
Leaves are free!
They improve soil fertility which means they provide nutrients to the soil and improve soil structure.   Improving soil structure means that the soil will become loose over time.
The layer of leaves protect and feed the organisms including earthworms over the winter.  Also, the leaves are protecting my garlic cloves over the winter.
Don't forget by using leaves, you are helping the environment.  If you have left over leaves, don't put them in a plastic bag and put them out for garbage pickup.  In our area, we can put them out by the curb in a brown bag for recycling/composting.
Also, If you have left over leaves, you may want to keep some for mulching in the garden.
One of my favorite places to check out fall leaves is Cooper's Rock, WV.