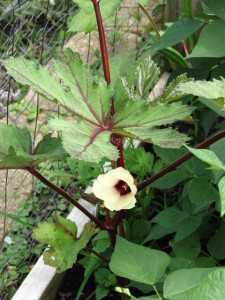 While this family is formally called the Malvaceae family, you will hear it called the Mallow family.  Cotton is a member of this family, but I don't grow it!  I do grow another family member which is okra.  I didn't start liking okra until I had fried okra at the Cracker Barrel Restaurant – now I am hooked!  If you click on this fried okra link, you can see how we make it.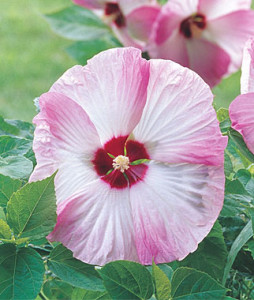 There are some flowers that are members of this family.  A flower you probably have seen from this family is called hibiscus.  The hibiscus flower looks like the flower on the okra plant.  Hibiscus is a perennial around Pittsburgh, PA (zone 5) even though it is very tropical looking.
Since the mallow family is a heat loving family, okra does best in full sun and doesn't need a ton of water.  It is not very fussy about nutrients.  You can give it fish emulsion or seaweed once a month.   If you live in the north, you may want to start your seedlings indoors around 5 weeks before your last frost.
When rotating crops, this family should not follow the nightshade family (tomatoes, potatoes, pepper, etc).  We will be talking about rotating soon – I promise!