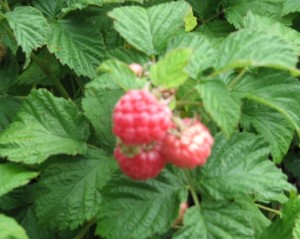 This is the first year that I started growing raspberries.  I didn't previously because I thought the plants had too many thorns and were not attractive looking.  I wanted to put my raspberry plant in my herb garden which is right next to our patio.   Here's my solution. . . I am growing a Raspberry Shortcake plant.
This raspberry plant has no thorns, grows in a mound shape  and will get up to 3 feet.   The one negative is the plant costs between $30 and $40 at most nurseries.   I finally found it at one local nursery for $20 so I decided to try it.   It already had buds on it and they continued to bloom even after I transplanted it.  I've been getting a few raspberries every day.  I am tempted to buy one more plant!
Also, it grows in zones 5 – 9 and is the right size to plant in a container.  I decided not to plant it in a container because it gets way too cold in the winter where I live.
The raspberries grow on the canes that are two years old and older.  You just have to remove the dead canes each year that have no new growth on them by cutting them down to the ground.  Sounds easy!
In general raspberries are acid loving plants so I like to use Espoma Organic food called Holly-tone.  It should be used in the Spring and Fall according to the directions on the package.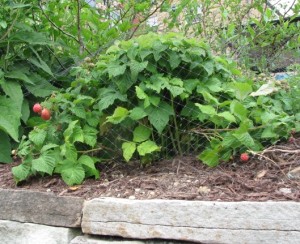 Just to be on the safe side, I draped some light weight bird netting over the raspberry plant to deter the birds and the deer from nibbling!  This is a garden favorite for us.