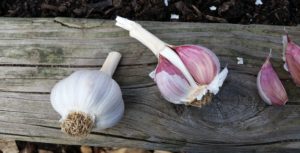 Spanish Roja Garlic is a beautiful heirloom which typically has up to 9 cloves per bulb.  It has thin bulb wrappers streaked with purple and brown.  It is a hardneck type of garlic that is in the rocambole family.
As for some of the features of Spanish Roja, it is known for a complex, hot and spicy flavor and is sought out by gourmet chefs.  Spanish Roja prefers cold winters and has tightly curled scapes.  This variety will store up to 6 months.  Rocambole type of garlic is known for its rich taste but not for a long storage life.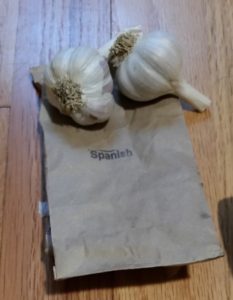 I planted 19 cloves of Spanish Roja Garlic which I purchased from Enon Valley Garlic.
I recently posted that I am growing another type of hardneck that is in the porcelain family called Music Garlic.  Just click on the link to check it out.