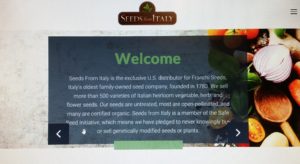 Seeds from Italy is the exclusive U.S. distributor for Franchi Seeds.  Franchi Seeds has been around a very long time in Italy – since 1783! They typically have a lot of seeds in the packets and charge a flat rate of $3.95 for shipping.  You can find their seeds via their catalog or website.
Seeds from Italy offers some interesting choices for herbs and vegetables that you don't see every where.
In addition to the herbs that most seed companies carry, Seeds of Italy offers anise, buck horn, capers, cumin, dandelion (I got that in my yard!), fenugreek, sclupit and valerian (I have never heard of the last three!).
As for the vegetable choices, I like what they offer for the cabbage family.  For instance, I grow the Cauliflower di Sicilia Violetta which is a purple cauliflower that produces side shoots and has a mild taste like broccoli .   Also, Seeds of Italy offers some nice choices for beans and tomatoes.  Now if you want a cool idea for summer squash check their varieties of Zuchetta squashes.  These plants vine like a pumpkin and are more resistant to pests.  I am trying the Tromba d'Albenga this year.
Don't forget to check out their choices for fruits and flowers.
While I like the choices from Seeds from Italian for my Italian dishes, I like Sandia Seed for my Mexican dishes.