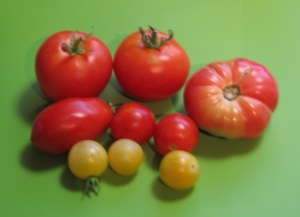 Tomato season is wrapping up and its time to reveal my favorites! They are all new plants that I grew from seed from Botanical Interests.
I wish I had planted more of these  two tomatoes:  the Glacier  and Italian Roma tomatoes (see the two rounds ones and the oblong one on the left in the picture above).  They were very productive and yummy.    I thought both were nice and thick walled which is great for making spaghetti sauce and salsa.  My preference for making sauce and salsa is to use the Italian Roma variety.   I grew some type of Roma tomatoes a few years ago but didn't like the taste.  If that was your experience in the past, I would give these Italian Roma tomatoes a  chance.
While I thought that the Glacier tomatoes would produce earlier since the packet noted 55 days, they were worth waiting for in our cool summer.   They are great for salads, to cook on the grill and to slice for sandwiches.  The options are endless!
Now another new tomato was the Pineapple pole tomato.  I grew three plants on really tall poles (instead of tomato cages) because the plants were supposed to get at least 6 feet tall.  My plants only grew to four feet tall but I did get a lot of tomatoes.  I think I left them on the vine too long because they started splitting on top and were more red than orange/yellow with red streaks (see the tomato in the picture above on the right)  I think I will try again next year.  This tomato had more seeds, tastes good and is nice and juicy (see below).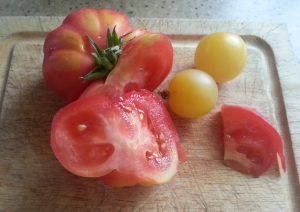 Now for the small tomatoes, I love the Rainbow Cherry Blend and the Principe Borghese tomatoes which are still growing.   Now out of the 7 cherry types, I got the Gold Nugget (see the yellow tomatoes in the pictures above) to grow really well this year.  It is sweet tasting with thin skin.  I like putting them on a salad or just popping them in my mouth as a snack.   A tomato does not have to be red to be good!  I am going to try some of the other varieties again next year.
I was supposed to keep the Principe Borghese (see the small red tomatoes in the middle of the 1st picture above) on the vine for sun dried tomatoes but they did not look good and it seemed like the bugs were attacking them while they were drying.  It doesn't matter because they are a good small tomato to eat just like the cherry tomatoes.  I  will try to dry a few on a dehydrator instead if we don't eat them all!
Don't forget to do a search for "tomatoes" in my blog to learn more about them.