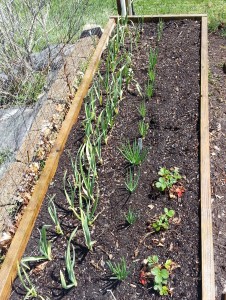 Normally, I select a few varieties from Enon Valley Garlic (see their webpage titled www.enonvalleygarlic.com) when I attend the Tomato Garlic Festival at Phipps Conservatory in Pittsburgh in August.    It's a great event that you get into for free if you bring a food donation from your garden.  The donated produce goes to the Greater Pittsburgh Community Food Bank.
The picture above shows the two rows of garlic on the left that I planted last October, next is the shallots (that I planted on April 6th) and then the strawberries (that I transplanted a few weeks ago) on the right.  I will be blogging about the shallots soon!
Enon Valley Garlic has quite an extensive selection online – over 30 types.  Garlic comes in two basic varieties – soft neck and hard neck.  1)  Softneck varieties do not produce a flower, do well in warmer climates and store well when havested.  2)  Hardneck varieties produce a flower stalk, like cooler climates.  Overall, the hardnecks don't store as well.    I've grown both types with success – so don't be scared!
I recommend planting the garlic in early October.   Don't worry it will develop a good strong root system before winter and start growing in Spring.    Take the garlic bulb and break it into individual cloves.  Plant the pointy side up, 3″ deep and 6 inches apart.  In the summer, the hardnecks will produce a flower stem that will loop around once or twice before straightening out.  While it looks really cool, you should cut the flower stem so the plant focuses its energy on the garlic bulb not the flower.
Garlic is very easy to grow and fun to experiment with the different types.  Unfortunately, I didn't make to the Tomato Garlic Festival last year so it was slim pickings in Pittsburgh in the Fall.  I finally found some garlic bulbs at a local nursery and there were only 3 choices – boring!  I can't remember where I put the garlic labels so I'm not sure what kind of garlic I am growing, but it is doing well.  If I find the names I will give an update at that time.  Also we will talk about harvesting the garlic when we get to that time of year!