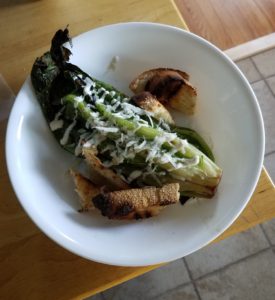 Since it has been a great spring for growing lettuce in Pittsburgh, we decided to try something new with our romaine lettuce hearts. . . Alan grilled them.  If you love Caesar salads, then give this a try.
The ingredients include: 1) romaine lettuce, 2) caesar dressing, 3) parmesan cheese, 4) olive oil and 5) bread.
First of all, I would suggest that you harvest the entire head of romaine when it matures. Leave enough of the stem so the head does not fall apart.  Slice the heart in half.
Lightly brush the romaine and the bread with olive oil and sprinkle the romaine with some salt. Grill the romaine and the bread for about one minute on each side.
Drizzle Caesar dressing and grate fresh parmesan cheese on the grilled romaine and top with the croutons (the grilled bread).