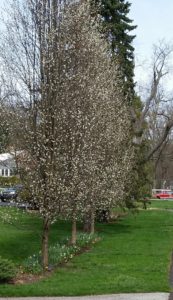 While I have not grown daffodils in my garden, I do like to look at them while taking my dog, Hoover for a walk.   Out of the spring bulbs, daffodils are deer resistant which is a big bonus in Pennsylvania.
Daffodils come in different shades of yellow/gold and white.  Also, daffodils are available in different heights varying from 2 foot and under.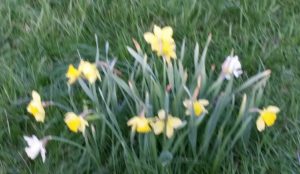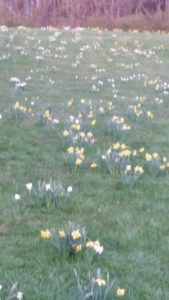 I thought these two views were worth showing:
One is a front yard of a neighbor in Bethel Park, PA.  These daffodils are blooming in a mulched bed at the same time that the trees are blooming.  Great timing!
The other is the hillside at the entrance of South Park in PA.  These daffodil bulbs were planted in various spots on a hillside.   By the time that the daffodils are done blooming, the grass will need to be cut.
I am thinking about getting the bulbs for the small, pale yellow daffodils for next year.