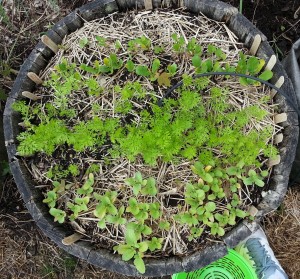 There is no whiskey in my two half barrels!  This year I am growing various root vegetables in them.  They naturally make great companions.  Can't go wrong with putting some root vegetables in one spot.  I have carrot, radishes, parsnips, rutabaga, turnips.
To be quite honest, I am not sure that I am going to want to eat any parsnip, rutabaga and turnips, but I thought I would give them a try this year.  Last year I tried beets for the first time and loved them.  Oh my, I forgot to plant my beets this year.   I will let you know if I like parsnips,  rutabaga, and turnips after they mature and I get a chance to eat them!
The whiskey barrel above has several types of radishes and carrots.  From front to back, I am growing French breakfast radishes, scarlet nantes carrots, dragon carrots, carnival carrots, cosmic purple carrots, watermelon radishes and purple radishes.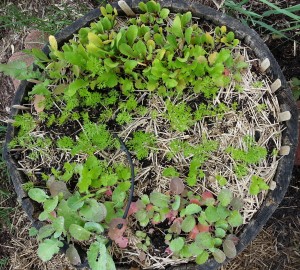 In the second whiskey barrel, I am growing the following from front to back:  rutabaga, parsnip, hybrid carrots, cosmic purple carrots, napoli carrots, turnips and salad rose radishes.
Most root vegetables prefer to be planted in the Spring  and like to be harvested in cooler weather.  In the hot summer weather they will do better with a shade cloth so they don't bolt.