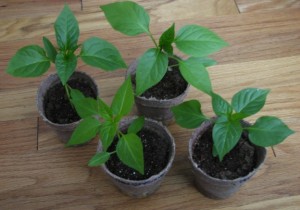 Wanted to show you how my hot and sweet peppers are doing inside my house.  I started them in the beginning of February inside my house in a portable greenhouse.  I did purchase a seedling heat mat which got the peppers off to a fast start!
I have a lot growing (6 of each variety) but I picked one of each for picture day.     The picture above shows my hot peppers: Anaheim Green Chili and Jalapeno peppers in the back row and  Cayenne and Poblano peppers in the front row.  If you want more information on what I am growing just click on the letters in green to see an earlier post on seed ideas for hot peppers.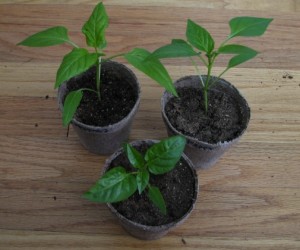 The picture to the right shows my sweet peppers: Lunchbox and Italian Marconi peppers are in the back row and a Cherry pepper plant is in the front row.
Now you know why it is so important to label them because the seeds and the plants all look the same.    After the seedlings got started, I move them to peat pots and I use a Sharpie marker to label them along the upper edge.  As for the plants, I will more than likely only plant 3 or 4 of each variety in mid to late May.  I always like to have a few extra plants in case I need them.   If I don't need the extras, I can always find someone to take them like my niece, Lisa or a neighbor.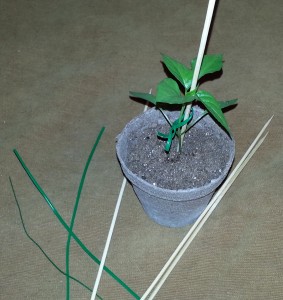 I just started staking them just so I don't damage the plants when I move them around.  I use kabob sticks which I can always reuse next year.  I also use (and reuse) green plant twist ties or string to support them.  Do NOT tie them tight to the stick because the stems are fragile at this stage.  I pinch the tie against the stick and then give the stem some space to grow and gently twist.  Give it a try!