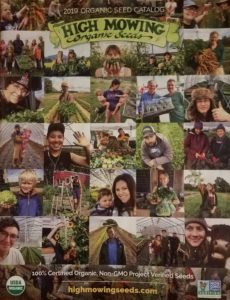 The catalog from High Mowing is a great source for seeds.  I typically purchase these seeds online because they are not available locally.
I  like High Mowing Seeds for the following reasons. . .
According to their catalog, all of their seeds are organic and non-GMOs.
They have lots of seed choices and 30 new varieties!
High Mowing offer many hybrids which carry the best traits of the parent varieties.  While hybrid seeds will typically be more expensive, they should have greater disease resistance, yield, uniformity and flavor.  I especially like the hybrid options for the cabbage family, winter and summer squash and melons.
They identify the disease resistances of certain varieties.
High Mowing offers various options so you can purchase just a packet of seeds or larger amounts.  The offer vegetable, fruit, herb and flower seeds.
Shipping is free for purchases over $10 unless the weight exceeds 25 pounds.
As for seeds, I really like the Tavor Artichoke , Oregon Sugar Pod II Snow Pea, and the Picnic Sweet Peppers.