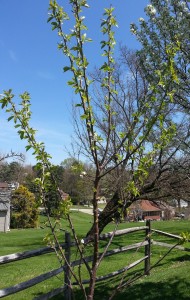 When we purchased our Reliance Cherry Tree in May 2012, it looked fantastic!   While we were worried that bugs might attack it, we did not realize that the real "pest" would be the deer in our neighborhood.  The deer ate most of the bottom branches and rubbed their antlers on the bark (see below).  I am hoping the tree continues to survive and we start getting cherries this year.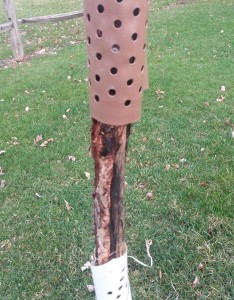 If you are planting a new cherry tree, here are some suggestions to keep the deer away:  1) Spray some Liquid Fence on the tree to keep the deer from eating the branches and flowers.  You gotta have branches and flowers in order to get the cherries!   2)  Put a fence or wire mesh around the tree trunk or put some cover around the trunk to keep the deer from destroying the bark.  I am using some plastic covers that I found at the store.  The plastic needs to have holes in it to give the trunk some air circulation.
Also, I would recommend removing the grass a few feet away from the base of the trunk  so you don't damage the trunk when cutting the grass and so the tree and grass roots don't compete for  water and nutrients.
In order to keep away any unwanted bugs and to attract the good bugs do some organic gardening, use chives, garlic, onion, and nasturtium for companion plants.
The Stella cherry tree's cold hardiness is Zone 5 or -20 degrees F.  It does not need another cherry tree to pollinate which is a good thing for a smaller yard.  The white flowers bloom in early spring.   Since we had a crazy Spring, I didn't get as many white flowers but I did get some nice leaves!  The fruit typically ripens in June and July.
While I don't have this problem yet, the birds love to eat the Stella cherries.  You can drape black netting over the tree to protect you cherries!