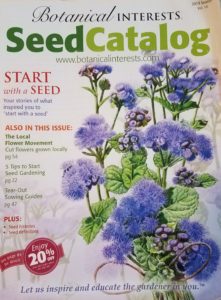 Botanical Interests is my "go to" vegetable seed catalog. I love the seed blends/mixes that they offer because I can by less seed packets and increase my options with more varieties!
Oops – I forgot to take a picture of the catalog before I started pouring through it.
My favorite vegetable seeds are the color coded seed mixes:
Red and Yellow Cayenne Pepper Blend
Red and Yellow Sweet Cherry Pepper Blend
Artisan Bumble Bee Cherry Tomato Blend
Artisan Tiger Stripes Cherry Tomato Blend
Rainbow Cherry Tomato Blend
Red and Yellow Pear Tomato Blend
Red and Yellow Jelly Bean Grape Tomato Blend
I still grow the Rainbow Cherry Tomato Blend and the Artisan Bumble Bee Cherry Tomato Blend – I love cherry tomatoes!
There are other vegetable seed blends that are not color coded:
Gourmet Beet Blend
Calliope and Carnival Carrot Blends
Chef's Choice Cauliflower Blend
Premier Kale Blend
Purple and White Kohlrabi
Brightest Brilliant Rainbow Quinoa Blend
Easter Egg Radish Blend
Scallop/ Patty Pan Zuccini Blend
Bright Lights, Celebration and Five Color Silverbeet Swiss Chard Blends
From the above, I usually grow the beets, Carnival carrots, kohlrabi, radish and Bright Lights Swiss Chard – love the variety.
Just when you thought there was no more choices  . . . Botanical also offers the following mixes for lettuce:
Oak Leaf Blend (red and green)
Salad Bowl Blend
Asian Salad Green
Chef's Gourmet Spicy Mix
Chef's Medley
Farmer's Market Blend
Gourmet Baby Greens
Sassy Salad and
Valentine Mix
I typically grow the Oak Leaf and Salad Bowl Blends, the Gourmet Baby Greens and the Valentine Mix.
While Botanical Interests has quite a few choices for sprouting seeds, check out these mixes:
Bean Mix

Salad Mix

Sandwich Mix
For baby green mixes, they offer:
Apple Blossom Swiss Chard Blend

Market Day Mesclun Lettuce Blend

Must Have Mustards

Smoothie Mix

Snappy Fresh Mesclun

Super Foods Blend
Microgreens:
Ciao Bella Basil Blend

Italian Amaro Blend

Jazzy Mix – New
Mellow Blend

Mild Mix – New

Umami Asian Blend
In addition to all the seed blends that I grow, I also love the following individual seed packets:
Roquette Rocket Salad Arugula (not the wild version)
Trionfo Violetto Bean
Red Cored Chantenay, Little Finger and Tonda di Parigi Carrots
Homemade Pickles and Baby Persian Cucumbers
Red Russian Kale
Parris Island Cos Romaine Lettuce – my favorite!
Flat of Italy Onions and Italian Red of Florence Scallions
Wando Peas and Sugar Daddy Snap Peas
Hot Peppers – Poblano, Jalafuego, NuMex Joe E. Parker
Sweet Peppers – Habanada and Jimmy Nardello
French Breakfast Radishes
All American and Turga Parsips
American Purple Top Rutabaga
Cube of Butter Yellow Squash
San Marzano Roma Pole Tomato
I still have more seed catalogs to review!