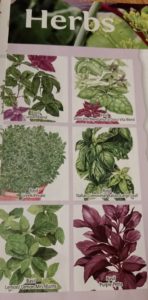 While Botanical Interests offers many seed mixes for their vegetables, they also offer a few blends for herbs.  They offer the Dolce Vita Blend which includes Cinnamon, Genovese, Tall Lemon, Lime, Italian Large Leaf and Purple Petra Basil.  Also, there is the Custom Basil Blend which includes Lemon, Anise, Cinnamon, Red Rubin, Dark Opal, Thai and Genovese Basil.  Another blend that they offer is Green and Red Shiso.
Over the past few years, I have been growing these annual herb seeds from Botanical Interests: Tetra Dill, Long Standing Cilantro and the Custom Basil Blend.  I also planted Mexican Tarrgon and Lovage seeds a few years ago from Botanical Interests and got a bonus because these herbs are perennials.  I did notice in the catalog that they are not selling lovage seeds anymore.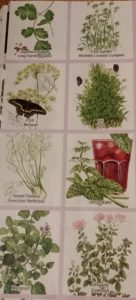 This year, I've added the following to my seed bank:  Summer Savory, Marjoram and Stevia.
There are other herb seed options so you need to do some research.
I think it would be cool if Botanical Interests would have a seed blend for different kinds of mint like peppermint, spearmint, mojito mint, pineapple mint, chocolate mint, apple mint, etc.