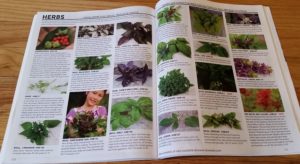 Baker Creek offers some different choices for herbs.
First of all, they offer 17 types of basil.  Their basil choices offer different flavors:  Blue Spice has a spicy vanilla flavor, Lemon and Lime offer citrus flavors , Siam Queen Thai and Thai Holy Kaparao have a clove flavor and Thai Sweet has a licorice flavor.  They offer different color basil plants:  Genovese has green leaves, Dark Purple Opal has purple leaves and Aromato has green and purple leaves.  Two choices that are compact and good for containers include Emily and Greek Dwarf.
They include the following flowers under the herb category since they are edible: Bee Balm, Shunkgiku Edible Chrysanthemum and Butterfly Pea.
Another herb that I have not grown (and never heard of) is Marshmallow which is an African native.  The roots and leaves are edible.  The plant has pretty pink flowers.
While you may find French and Mexican tarragon from other seed companies, Baker Creek offers Russian tarragon.
They offer some medicinal herbs, fruit seeds and vegetable seeds.