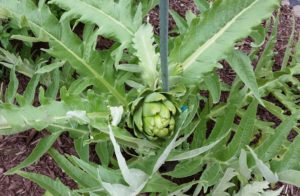 This is the first year that I actually figured out how to grow artichokes.    In Pittsburgh, you have to grow artichokes as an annual.  In warmer locations (zone 7 and above), you can grow it as a perennial.  I selected the variety called Tavor Artichoke from High Mowing Seeds because it matures in about 90 days which is helpful in growing it as an annual.
While the seed catalog indicates that this plant will produce up to eight artichokes, I got seven from one plant.  The Tavor Artichoke needs space to grow so the plants should be spaced about 2 1/2 feet.  This variety will reach up to 4 feet tall.
The only downside of this variety is that the artichokes are smaller and less dense than the ones at the grocery store but still yummy!  It is worth giving this one a try.
If you missed my post on Seed Ideas for Artichokes, just click on the link.