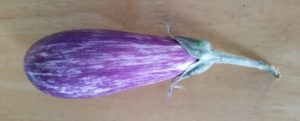 I always thought of eggplant as a large deep purple Italian plant based on what I usually see at the grocery store.   Don't worry – there are other choices such a smaller plants, smaller fruits, different colors and different countries of origin to pick from.  While I usually update my seed posts in the winter, I forgot this year! If you want my opinion for seed ideas, I think Johnny's Selected Seeds has the best choices.   I am also highlighting ones from Botanical Interests, High Mowing Seeds and Territorial Seed.
Kermit  – Small and round, green and white round, and a Thai specialty.  The fruit is about 2 inches in diameter – that is small!  A very similar option is called Petch Siam.
Fairy Tale – Small and thin, bright purple with white streaks.  Listada di Gandia looks like Fairy Tale but a little plumper.  If you want a darker purple version, then go for Little Finger or Patio Baby.  These plants work well in containers.
Diamond – Slender and dark purple without bitterness.
Calliope – Small purple and white Asian eggplant.  It will get up to 4 inches long and 1 1/2 inches in diameter.
Snowy and Casper-White and medium sized with a delicate flavor.
Rosa Bianca – Medium sized and round, white and bright purple and has a mild creamy taste.  A darker purple version from Italy is Prosperosa.
Orient Charm – long and thin pink and white eggplant.  Orient Express – long and thin dark purple eggplant.  If you want a bright purple version, then check out Long Purple or Ping Tung Long.  Bride Eggplant – White skin with a light purple/pink blush.
Raja – small white Indian eggplant which will grow to about 3 inches long.
Jaylo – this black eggplant has been bred for greenhouse production.
Millionaire – Sounds intriguing.  This one matures in 54 days and very productive.
If you want a more traditional Italian eggplant that is larger, try Galine, Nadia, Traviata, Michal, Black Beauty and Black King which are black and Dancer which is deep pink.